Andrews Research & Education Foundation
On-Demand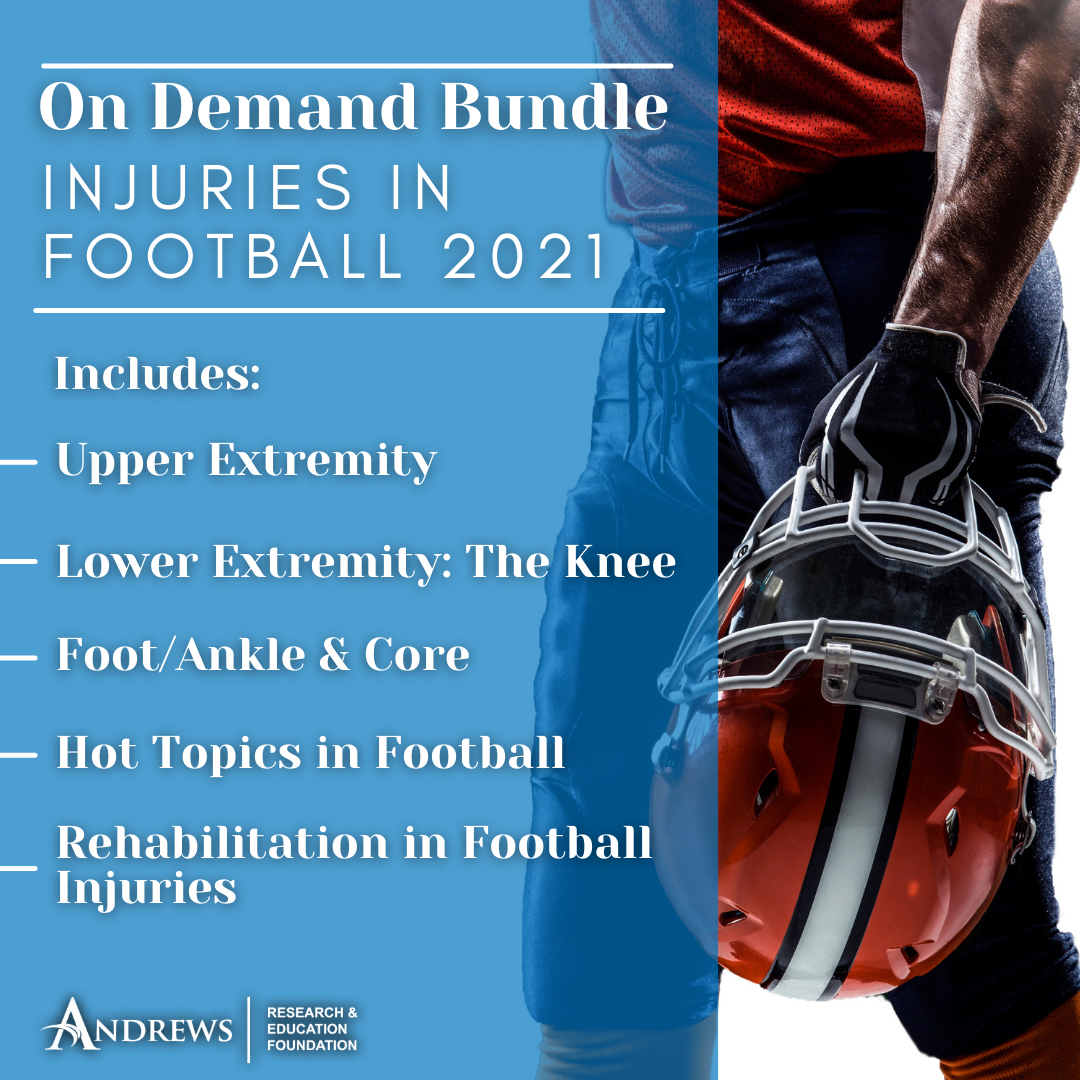 Andrews Institute Injuries in Football 2021 Course Bundle
Course Description: This on-demand conference package is tailored to those who work with athletes in football, including, but not limited to, athletic trainers, coaches, sports physicians, surgeons and therapists. A variety of presentations and interactive labs will provide insight into current concepts of assessment, treatment and functional rehabilitation of the medical and musculoskeletal injuries sustained by football athletes.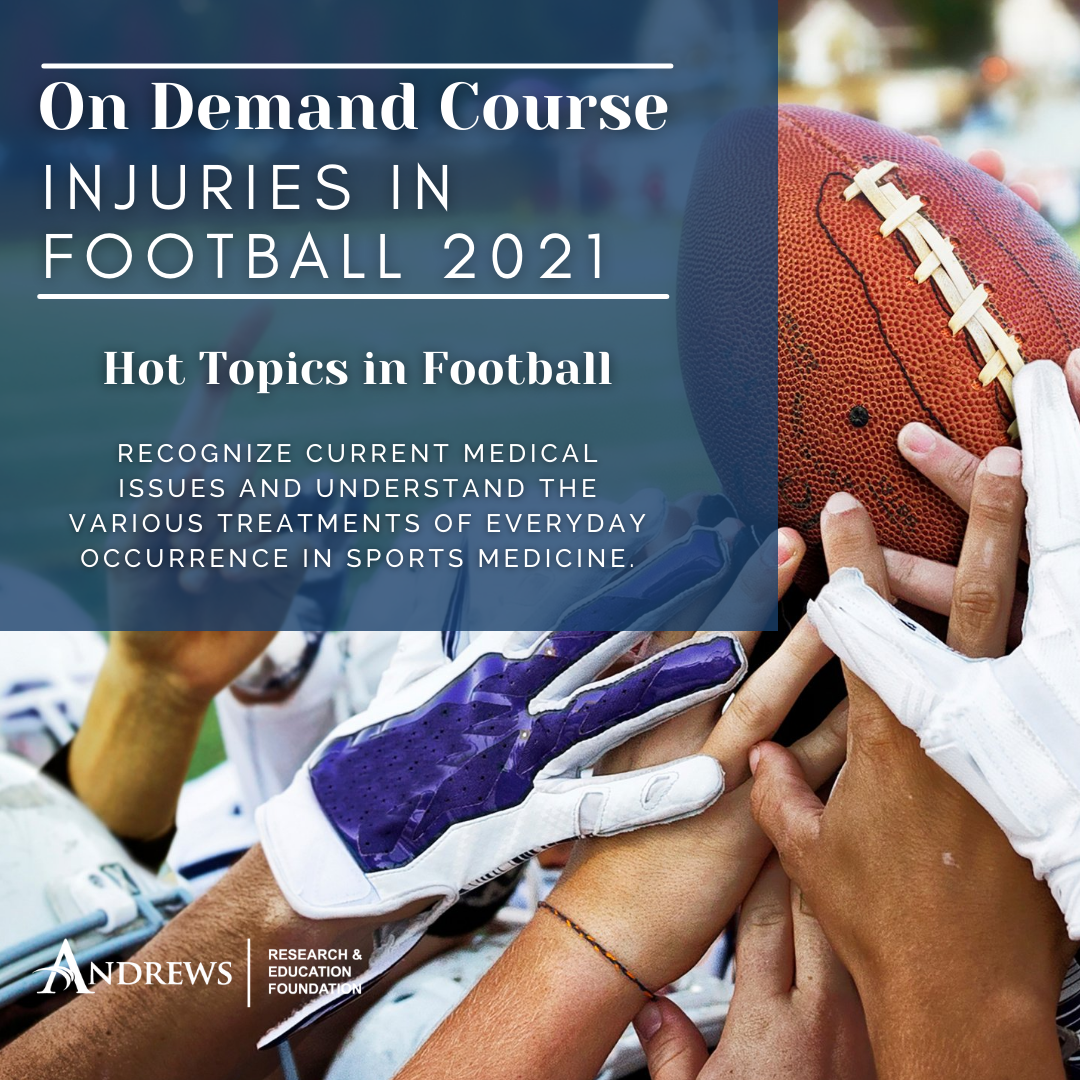 Injuries in Football 2021: Hot Topics
This course covers some current hot topics and trends in sports medicine that pertain to football. Topics including performance enhancing substances, abdominal injuries, subdural hematoma, and other things that keep you up at night. This course adds a nice discussion on various surgical cases while getting insight from various physicians. One unique part about this course is the final panel discussion where we bring thought leaders together to go over game day sport medicine protocols in various settings. It is a great collaboration between the sports medicine team.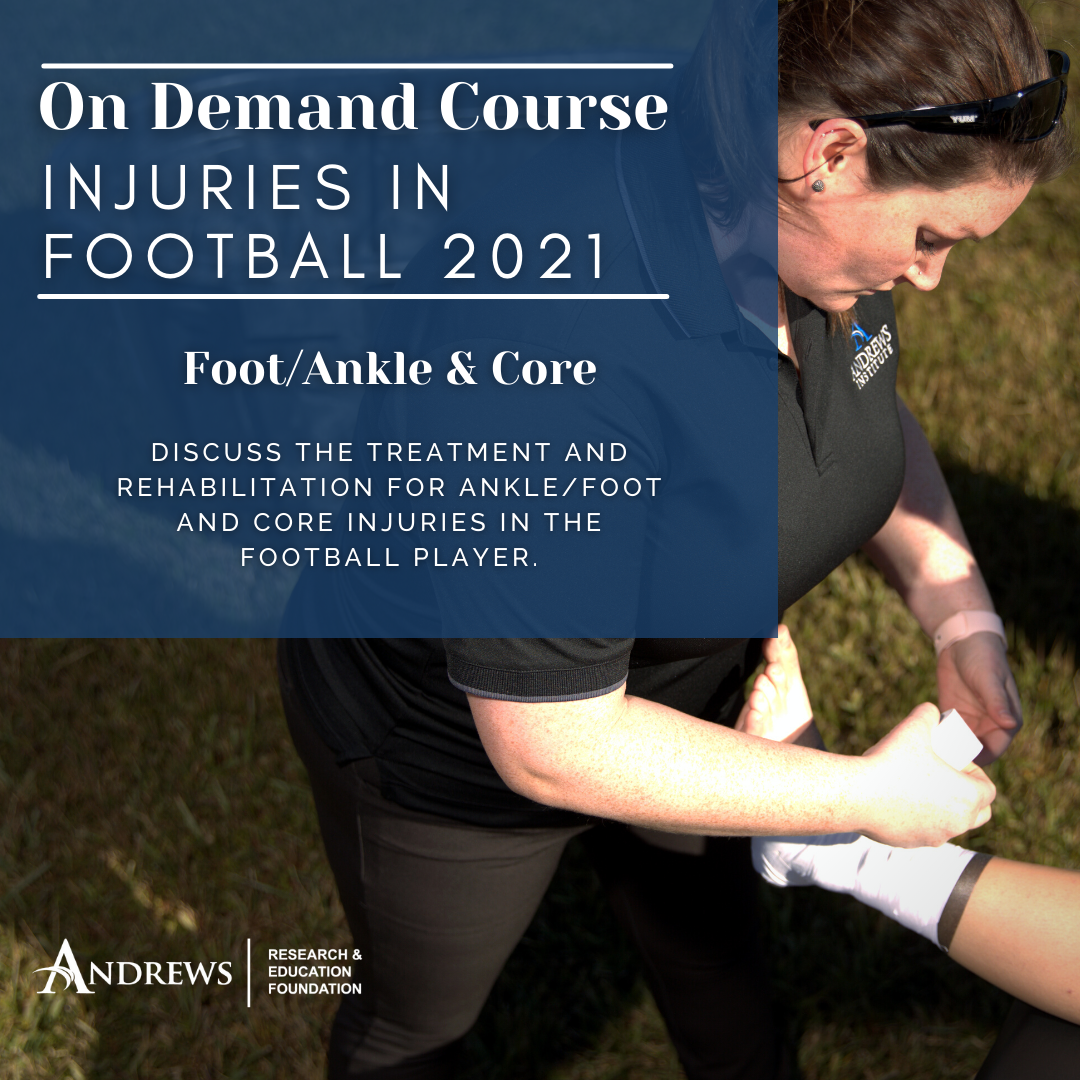 Injuries in Football 2021: Foot/Ankle and Core
The course starts off with guest speaker Dr. Allen Sills, Chief Medical Officer of the NFL talking about strategies and platforms used to help reduce concussions and other injuries in football. After that the course talks about high ankle sprains and how to manage. Common foot injuries such as Lisfranc, turf toe and more are discussed at length on when to fix or not. The course does switch gears to talk about core injuries and treatment management. Lastly, various exercises are provided to train and stabilize the core.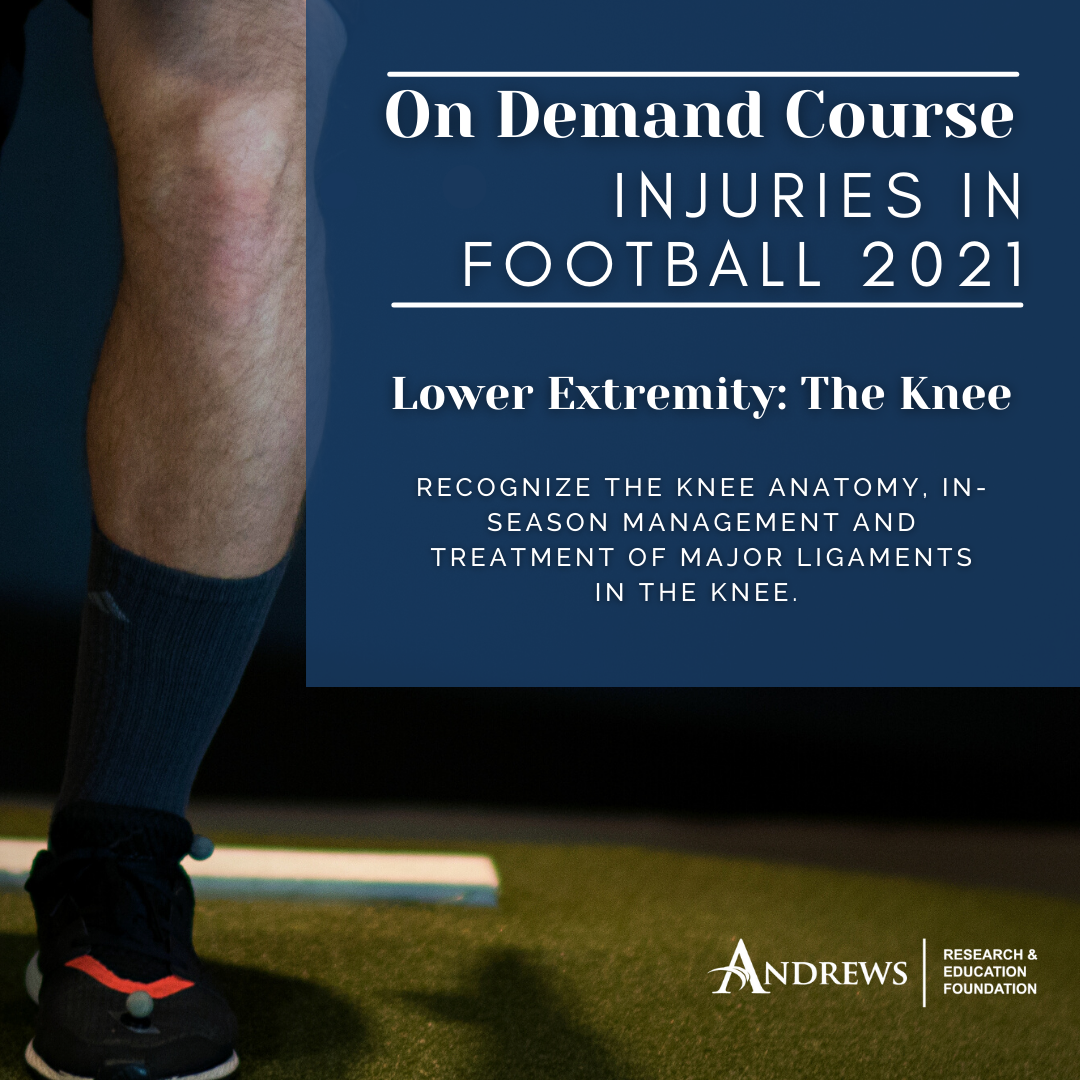 Injuries in Football 2021: Lower Extremity - The Knee
This course dives deep into discussing major knee injuries such as dislocated knee, meniscus tears, and ACL injuries. Meniscus injuries continue to be a problem in football, and this course will identify and discuss rehabilitation techniques that will get players on the field safely and quickly. Advancements in the rehabilitation of the ACL and the outcomes of these will also be discussed. Connecting the advancements to major impacts on the ACL reconstruction is critical. The different reconstruction rehabilitation phases will be also discussed relating to how players can get healed safely. This will start at the early phase and going through the functional activity phase of rehabilitation.
Injuries in Football 2021: Rehabilitation in Football Injuries
This course starts off with a great roundtable discussion with various thought leaders in the field to talk about return to play protocols and safety after ACL reconstruction surgery. Then it goes on to talk about rehabilitation protocols for injuries such as the shoulder, elbow, ankle and foot. A big topic that is covered is prevention and rehabilitation of hamstring injuries which are very common in football players. This session also covers the use of blood flow restriction following lower leg injury and surgery. It next addresses what is new in the clinic and athletic training room with regards to modalities and what is working and what is not. Lastly, it takes a closer look into the biomechanical aspects and differences between the quarterback and baseball throwing mechanics. There is a lot of great pearls to take away from this jammed packed session.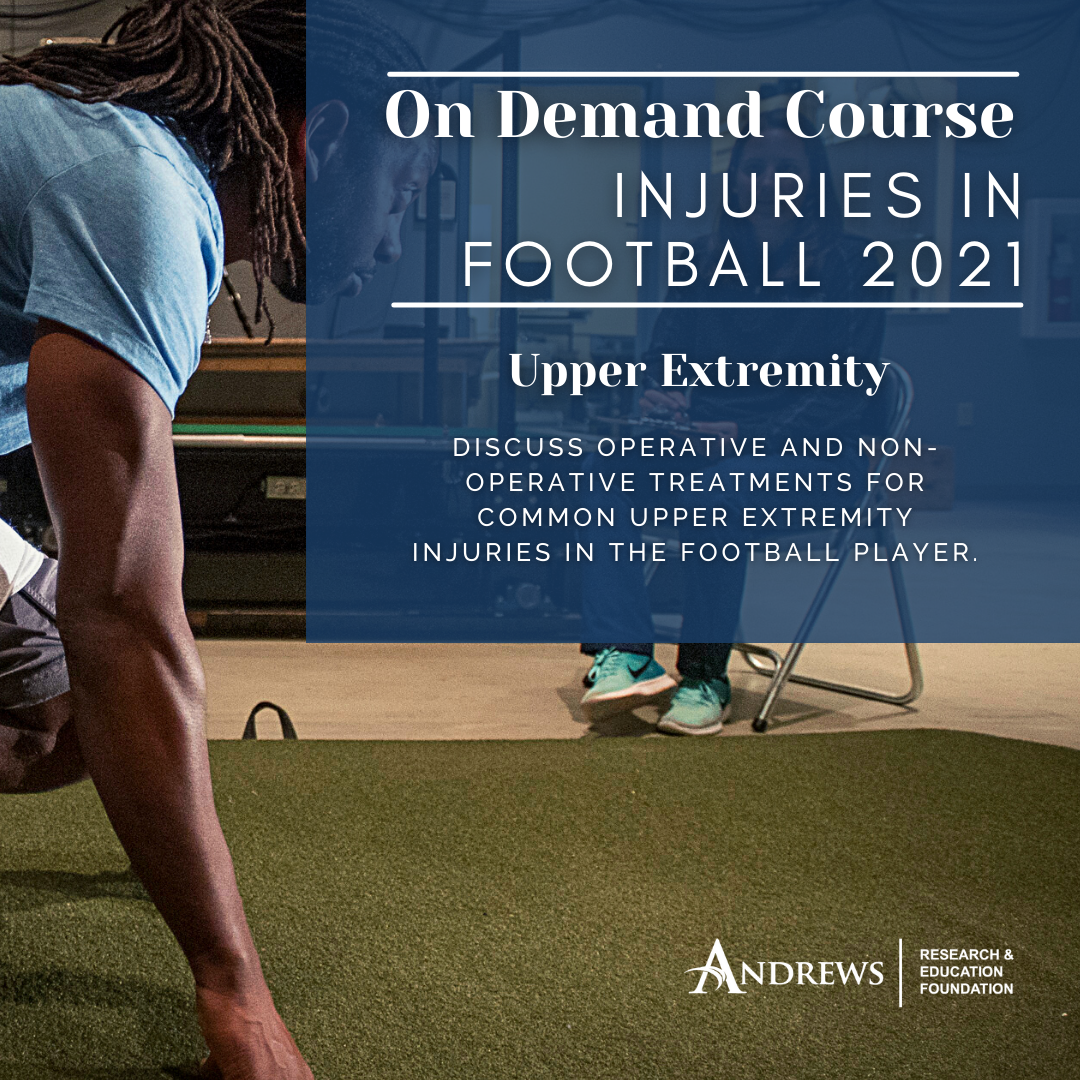 Injuries in Football 2021: Upper Extremity
As athletic team health care providers it is important to have evidence-based routines when examining athletes for injuries. This course will provide the evidence and best practice routines for shoulder examinations from the immediate sideline exam to in the more complete exam in the clinic. Having that routine, the clinician will be efficient and will have better patient outcomes. The course will then take a deeper dive into understanding shoulder and elbow dislocations and the best operative treatment and rehabilitation progression to return to play. Lastly, the course will go over common hand and wrist injuries and how best to stay out of trouble and not overlook them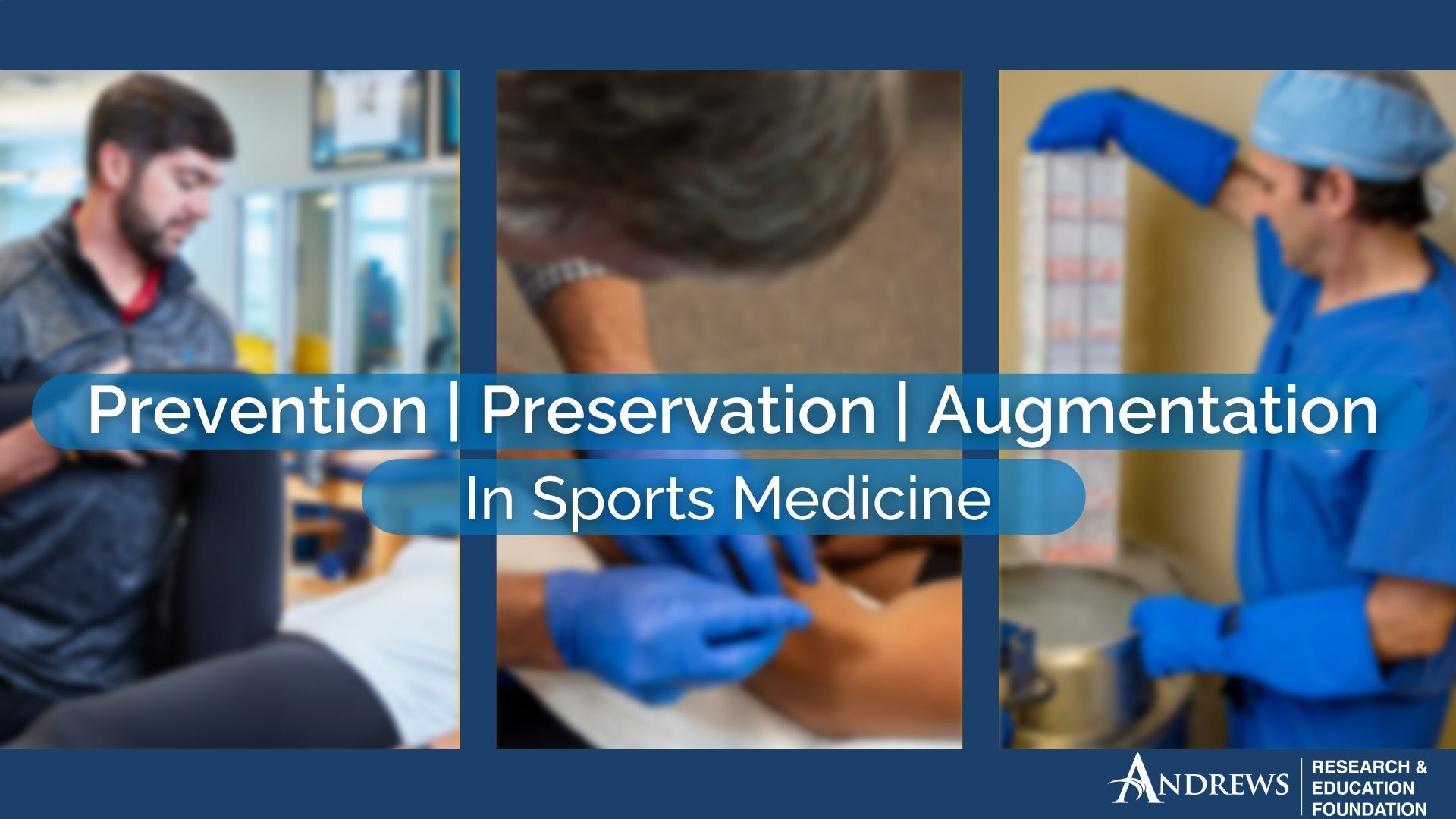 Prevention, Preservation, & Augmentation in Sports Medicine
As health care providers, not only it is important to stay current with best practices regarding prevention and treatment of injuries, but also providing the best option of care to patients. This course will cover various ways to help prevent injuries, preservation and biologic treatments that relate to staying current on the best practices. Other topics will cover ACL prevention and return to play, blood flow restriction, meniscal preservation, dry needling and more. These will give health care providers a better understanding of the best opinions that are available to their athletes, offering a variety of treatment options that will get then back on the field safely. Often, athletes want to get back on the field fast, however, many injuries need time to heal properly and safely. Blood Flow Restriction, for example is a great way to stay current and provide the best care for the patient safely. BFR gets the athlete physically ready to get back on the field again, and in less time, creating the best of both worlds.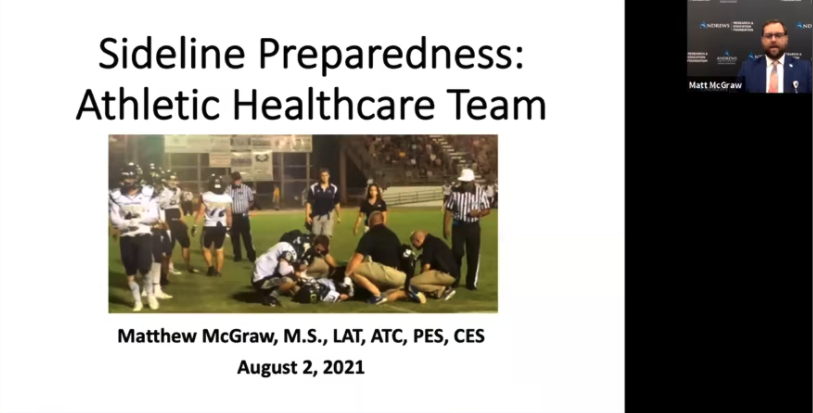 Sideline Preparedness: Athletic Healthcare Team
This course is designed to help educate healthcare personnel about the gameday experience and be prepared on the sidelines for various emergency situations. They will be provided with recommendations and guidelines to identify and plan for medical care and services at the site of practices or competition. It explains the importance of having a plan to help give the best care possible to the athletes and other personnel.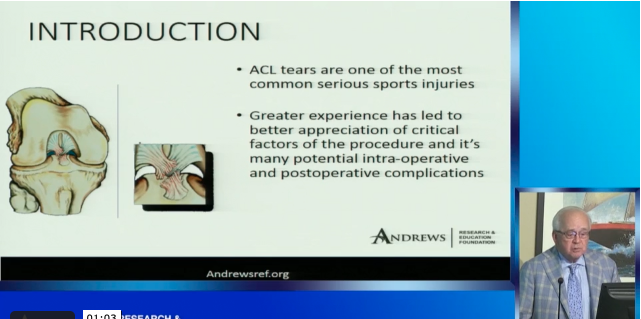 Pitfalls in Bone Tendon Bone ACL Reconstruction
ACL reconstruction surgery is one of the common surgeries in sport medicine. A background of each athlete should be taken and careful pre-operative assessment must be made. It is important to understanding various pitfalls that can occur during ACL surgery and knowing how to prevent and fix efficiently. Sterilizing grafts is just one critical part of surgery and must be done correctly. Lastly, sharing experiences with other surgeons helps educates and makes better surgeons going forward.
| Access Date | Quiz Result | Score | Actions |
| --- | --- | --- | --- |