Andrews Research & Education Foundation
On-Demand
The Female Athlete Course - On-Demand
This course will cover the unique aspects of the female athlete. Female athletes are more susceptible to certain injuries, vitamin and mineral deficiencies, and imbalances of hormones. We will dive into how we can help to prevent these issues through proper training and nutrition as well as how to recognize the signs of common female issues in order to treat them in a timely manner. This course will also explore; proper running shoes and running shoe maintenance, RED-S in women, menstrual cycles and the female athlete, and mental health for adolescent female athletes.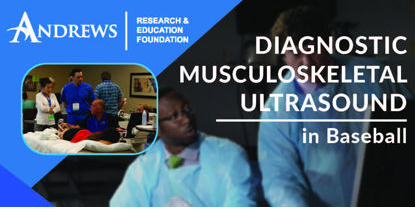 MSK Ultrasound in Baseball - Series Bundle
Musculoskeletal Ultrasound in Baseball is a four part series about the fundamentals of ultrasound and the protocols to diagnose various injuries for the thorax, upper and lower extremities in baseball players.
Hip Arthroscopy, Technique and Indications and Rehabilitation Principles
It is important to understand the background and history of hip arthroscopy. The history and physical exam are equally important in order to determine indications for injury and if surgical intervention is needed. It is needed to understand the factors indicating whether or not surgery is the best method of action, and what is the best possible surgical treatment. Post-surgery it is important to understand the physical rehabilitation process all hip arthroscopy patients must endure after their procedure. By utilizing videos the entire rehab process, starting from the week of surgery and ending months later is demonstrated to help educate patients and clinicians. Reviewing the various exercises and when to utilize them is just as important as the exercises itself.
Sport Injuries of the Hand and Wrist
This course discusses the common bone, tendon, and ligament sport injuries of the hand and wrist. The most common fracture of the upper extremity is phalangeal fractures and most can be managed non-operatively. This course reviews the mechanism of injuries and discusses the best surgical and non-surgical treatment options.
Sport Related Concussion & Physical Therapy Management
This course describes concussions and the functional disturbance that is occurring. It will discuss the signs and symptoms to recognize and then how to evaluate the concussion. The protocols and different types of tools to help return the athletes back to play safely. This course will help you understand the different type of therapy methods that are used to help with the recovery process. It will provide an overview of a general physical therapy treatment for vestibular/ocular concussion injuries.
Management of Sideline Emergencies
Leaders in the field of sports medicine are continuing to make strides on keeping our athletes safe from medical emergencies. Preparedness can be the difference between life and death when an emergency occurs. This course will delve deeper into the current research and most up to date info regarding medical emergencies such as sudden cardiac death, spinal cord injuries, heat illness, and more. This course will discuss the importance of being prepared and equipped to handle whatever can be thrown at you on the sidelines.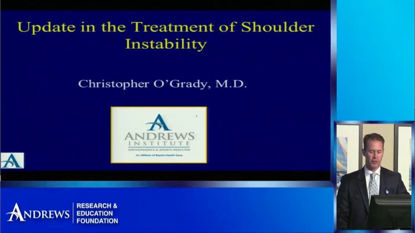 Shoulder Instability and Rehabilitation
There are various different types of shoulder instability such as posterior, anterior and multidirectional instability. Understanding the difference will help with the treatment plan. The most common type in sports medicine is traumatic anterior instability, where unidirectional- excessive force to an abducted externally rotated arm. Communication with the physician will help best determine the rehabilitation protocol best for the athlete. This course will provide various types of exercises that are used throughout the rehabilitation process.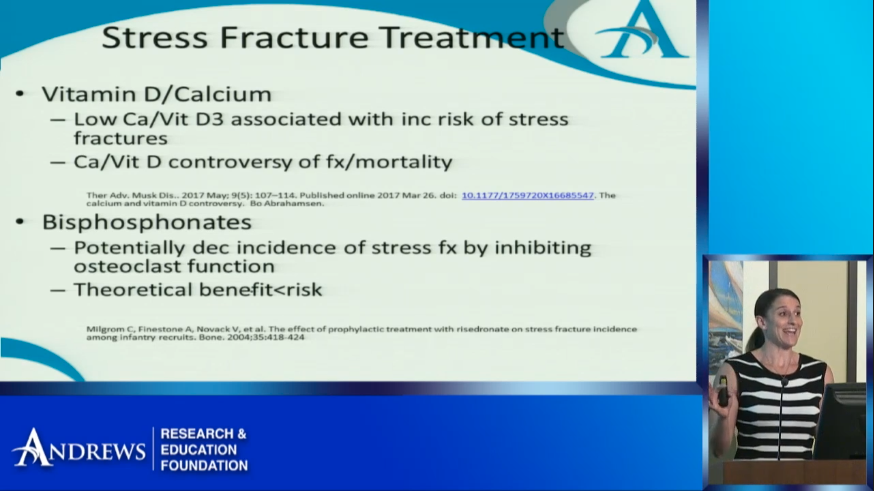 Overuse Injuries of the Foot and Ankle
Extensive amount of exercise and physical activity often lead to overuse of the foot and ankle complex. Overuse can be described as repetitive trauma, general "wear and tear", or "misuse" of the foot/ankle including excessive pronation or varus/valgus knees. Overusing this area of the body often causes foot and ankle pathologies that can hinder quality of life. Clinical examination is critical in diagnosing pathologies of the foot, specifically plantar fasciitis. The recommended treatment for plantar fasciitis includes surgical and non-surgical options. Forefoot pain can be caused by several factors and it is important for the physician to recognize these pathologies and diagnose accordingly. Overuse of the foot and ankle can also lead to stress fractures in this area. This should be considered when working with individuals with a high physical activity level.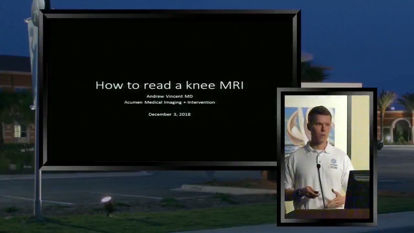 Anatomy and How to Read an MRI of the Knee
A physician should have a consistent and specific methodology approach when it comes to reading an MRI, this will ultimately limit the amount of key structures that you miss or misinterpret. Whether the patient is having acute or chronic knee pain, radiographs are usually a straight forward reading and can give an accurate outcome of what is going on with the patient, if more information is needed an MRI is the next step. The different types of meniscal tears are discussed in this talk, along with the pathology and MRI diagnostic techniques.
| Access Date | Quiz Result | Score | Actions |
| --- | --- | --- | --- |